Notes > Competitor reports > 2006 Winner's Tale
2006 Winner's Tale
2006 winner Matt Giles' race report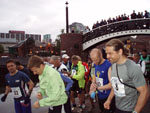 At 6am on a dry Saturday morning 66 runners lined up along the towpath at Gas Street Basin in Birmingham. Everyone was smiling, chatting and looking quite excited, although you could feel a slight nervousness in the air. I was smiling but also worrying about how calm I was. Race Director Dick Kearn sounded the starter hooter and we set off. It was a very strange race start with runners, instead of trying to get to the front, were trying not to be at the front. Alicja was brave enough to set the pace and a big group of us followed not far behind chatting, joking and just enjoying the steady pace for the first 10 miles, knowing the pain would soon be creeping into our legs.

As the miles went by the field gradually drifted apart as runners made various stops or changed their pace. There was an awfully long way to go yet.

It was at 13 miles that I first met my support crew (Cath, my wife, and Jen and Andy Aston), still feeling very fresh, stocked up on food and drink and dumped my jacket. The next 10 miles saw me catch up with two guys at the front and we ran together up to Hatton Locks at 22 miles. I think this is where the first signs of fatigue were noticed and there was going to be no more 'easy' running. One of the runners had a break here, which left myself and John Kinder (last years joint winner) running together at the front of the race. The pace was comfortable, the weather was fine and we past the time talking all about running.

Leamington Spa meandered by uneventfully but then at 30 miles my IT band flared up and bending my right knee was incredibly painful. Luckily my support crew were round the corner with food, drink and ibuprofen gel. I plastered my leg with the gel and hobbled off round the corner for a stretch so the girls couldn't see me struggling (Andy did a good job of calming them down and dragged them away back to the van saying I just had to run my own race). Somehow I managed to get jogging again but I was extremely close to pulling out. With 115 miles to go I thought it was daft to carry on, but I did anyway.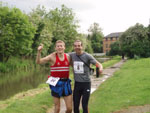 I caught John back up and we ran together for the rest of the day. We quickly fell into a routine when meeting the support crew, refilling bottles, grabbing lots of food and plastering gel on my knee. We ran through some great coutryside although the towpath proved difficult running in many places, frequently being overgrown or even disappearing into the canal. There was plenty of wildlife to see and some sections were so peaceful all you could hear was the bird song and the fish jumping. People on the canal boats always said hello. Some asked what we were doing and we got mixed responses when they heard the answer. I either saw lots of herons or it was the same one following me all the way to London.

At 75 miles we were approaching the end of the day and Milton Keynes. We were greeted into Milton Keynes by a group of young kids swearing and shouting obscenities at us from a bridge. The paths did improve but the next 10 miles were extremely monotonous and our spirit and strength seemed to fade with the daylight after running all day.

Checkpoint 6 was at 85 miles which we reached as it was getting dark. Cath and Jen from my support crew had gone to find somewhere to sleep and Si Link and Tony Warner joined Andy to support me through the night. John had decided to use his poles and walk though the night. I knew if I stopped running and walked there would be no way I could get moving again in the morning, also my knee hurt more when walking than when jogging. So this is where John and I parted company. I put a warmer top on after running all day in my vest. We said good luck to each other and I set off in front, this time with one of my crew (Si) with me to try and run through the night.

I was feeling tired but was eating and drinking well and, despite the throbbing and aching, still felt like there was a bit of life left in my legs. The head torches did their job and I found my way to 100miles by just after Midnight. I looked up and noticed what a clear night it was with an impressive array of stars in the sky. I'd had my head down looking at towpath since dusk. We didn't stop for more than a few minutes and pushed on into the darkness. There were hundreds of bats and I was continuously dodging frogs and slugs on the puddled towpaths.

Running through the night was a good experience and not quite as difficult as I had expected (though by no means easy). Other runners had told me at the start that the night section was the hardest part, but the dawn generally brought new energy. This I was looking forward to.

I think we reached about 110/115 miles when the dawn started breaking. I'd been waiting for it for a while. First we heard the birds begin to sing, then things just seemed to slowly get lighter and showed misty fields through the trees next to us. The head torches went off and we were into a new day. The new energy I had been told about didn't come and this is where I started struggling. My legs were still turning over but I felt incredibly tired. I could have happily lay down in a cosy pile of nettles and gone to sleep. I started seeing things I knew weren't really there. It was 5am and on all the boats I could see people standing, or walking on the towpaths. When we got closer there was never anybody there.

We saw a brand new moped sitting in the canal.

We saw a huge monkey hanging off the top off a derelict warehouse.

We saw the endings of a rave party.

I made it to 120 miles and loaded myself with sugar, caffeine and a pot noodle. This seemed to sort my head out a bit, although the blistered feet, painful knees and throbbing legs were still the same. Only a marathon to go now! I new it would take a long time but this was the first time I had any confidence or realization I might finish. Didn't want to get carried away though, still had to concentrate on each mile at a time. To let my head fall into the trap of thinking we were nearly there would be suicidal when there was probably over 5 hours of running left.

Now was the real mental battle. I was on complete autopilot. Everything hurt but I just had to keep plodding forward. If I kept doing that I'd eventually finish.

At Check Point 9 (133 miles) the girls arrived. It was good to see Cath again although I think she must have had a shock at how different I was from the previous evening. All my effort now was going into running, I was struggling to make conversation. Another pot noodle and I carried on. Just a half marathon to go.

Over the last 12 miles there were 3 diversions to make due to towpath closures (2 planned, 1 surprise). Running for 12 more miles I had got my head round, but these diversions added on a good mile or two for each one, and at 11-12 minute miling that's quite a lot of time. I had a couple of interesting moments on busy high streets trying to find our way back to the canal and urgently needing the toilet.


Eventually we found our way back onto the canal and were told Little Venice was only 1 ½ miles away. Suddenly realizing I was nearly there I spent the next 10 minutes continuously looking over my shoulder paranoid that a group of runners would overtake me on the line. Then I saw the finish and the pain vanished. Suddenly running was easy again. I tried to compose myself and jogged on to cross the line 29 hours and 2 minutes after the starting hooter sounded. I couldn't stop smiling, I couldn't believe I'd finished, I'd run 145 miles, I hadn't sat down since yesterday, I wanted to collapse.


06/Matt Giles/012Matt-and-Dick.jpg" hspace="10" vspace="5" border="0" align="left">I shook a few hands and Dick presented me with a lovely trophy I keep for a year and a brass 'thingy' I keep permanently. I then went over and thanked my very tired support team, without whom I would never have finished, before lying down on the most comfortable pavement in the world.